We hope to see you on the first weekend of October 2023. Thank you for your understanding and support over the seven years we have held the event so far. Keep on running!
---
Race Date: 1st Saturday in October 2023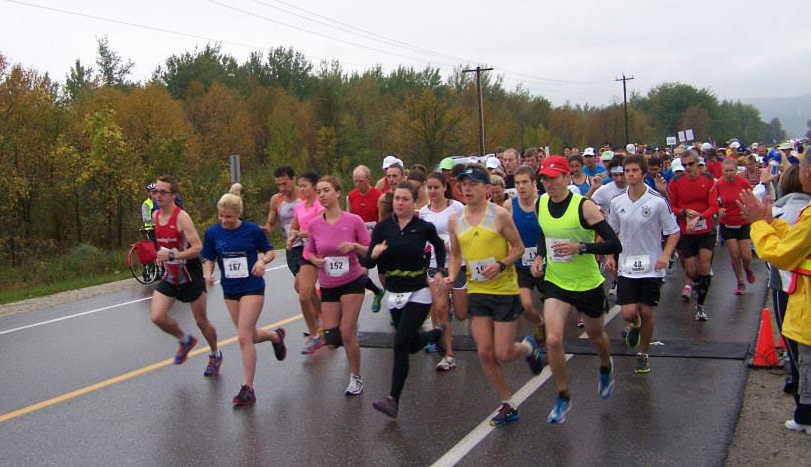 Please check this race day information page often as some details may change.
Start Times
Saturday, October 7, 2023
10K - 8:00 a.m.
Kid's 2K - 8:05 a.m.
Half Marathon - 8:30 a.m.
Races starts at Fisher Field
Transportation
Entrants are responsible for arriving at the start line no later than 1/2 hour before scheduled start. Parking will be available at Fisher Field next door to Bygone Days Heritage Village.
Important Safety Note
For the safety of all participants, we strongly recommend not wearing headphones and audio devices that inhibit your ability to hear surrounding sounds.
Start Corrals
Elite Sub 1:15
Sub Elite Sub 1:35
Competitive Sub 1:47
Preferred Sub 2:00
Open 2:00+
Aid Stations
There will be Aid Stations along the route at least every 3km, supplying runners with Water and Gatorade.  If you are in distress, please inform a race official immediately. Further details will be posted on this Race Day Information page as they become available.
The Course
Every kilometer will be marked. Clocks will be located at the start and finish. All participants on the course after 4 hours may be asked to move onto the sidewalk/shoulder and obey normal traffic laws. Race marshals will pull any person running without a bib off the course. We urge paying participants to discourage anyone from participating unofficially.
NO BIB, NO RUN!
Finish Area
After you cross the finish line, proceed to the end of the chute as quickly as possible. Medals, food, massage will be available. A Family Reunion area will be located just outside the chute.
Post Race
Runners will be provided with Gatorade, water, bananas, and oranges.