Run Collingwood will now include a 2K run for kids from grades 2 to 6! The race will run after the half marathon and 10K are finished. Sign up today for the half marathon or 10K, run your race, then watch your kids compete on a grassy course on the infield at Fisher Field. The kids 2K will run at 11:30 and will feature numbered bibs and chip timing.
This 2K kids event is organized and run by Active Life Conditioning in Collingwood under the guidance of Graeme Buckrell and Sarah Applegarth. We are happy to cross promote the event and help time it because fit kids are healthy kids.
Sign up for the adult Half Marathon and 10K today: registration.runcollingwood.ca
We will have the registration link up for the kids race shortly!
A Lifetime of Fitness!
Thomas Brindisi started running at a very young age because he wanted to do things his dad liked. Whether competing in the Kids of Steel mini Triathlon at age 7, or running 5k's for martial arts he kept running through the years. Soon he progressed to track and cross country and not only is enjoying a great high school career but at age 14 ran his first half marathon (Goodlife Fitness Toronto Half Marathon) in an astounding time of 1:36! Now at age 17 he is sponsored by Skechers minimal running shoe brand and has competed in several half marathons. At age 16 he ran 55km non-stop to keep his dad company during his 100k run for the Collingwood G&M hospital. Not only has Tom made running and fitness his lifelong habit, he has formed an even stronger bond with his like minded parents. Sign your kids up for the 2K race and start them on a lifelong journey of healthy living! – (Nick Brindisi – Run Collingwood Race Director)
Thomas Age 7 – Kids of Steel Collingwood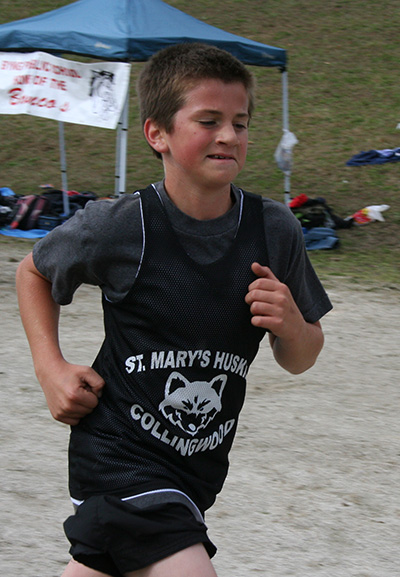 Thomas Age 12 – Cross Country School Event
Tom Present Day Age 17 – Hill training on the Escarpment